Parents have come to look to Chronicle Books for quality children's literature, and with two new releases offering unique reading experiences, neither kids nor parents will be disappointed.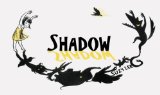 I'm almost embarrassed to admit this, but Shadow is the first book that I've seen by acclaimed artist Suzy Lee. Wow. Be prepared to look at a book in a completely different way, even down to the very way that you hold the book in your hands. Turn the tall book horizontally, and the almost-wordless story comes to life, with a little girl playing in her attic on the top page, and the shadows of her activities shown on the bottom page. The power of imagination is immeasurable, and soon the shadows come to have a life of their own. The black, white and gray illustrations are supplemented by a soft yellow glow representing the magic of her imagination. Wordless books present children, especially those who have not yet mastered reading, with a creative book experience, and I can report that my own younger children ADORE telling this story in their own words. Shadow has been nominated for a Cybils award, and I for one am a huge fan!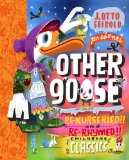 Be prepared to get your silly on with J.otto Seibold's hilarious Other Goose: Re-Nurseried!! and Re-Rhymed!! Childrens Classics. Opening with a note from "Other Goose," who informs us that we're quite mistaken about the avian characteristic of the writer of all those old nursery rhymes, and that the rhymes created by Mother Goose (who's actually a person!) might need some updating. "I mean, what good is a pocket full of rye anymore, I ask you?" Other Goose has taken it upon herself to "re-nursery" them and the result is a festival of silliness and rhymes like you've never read before. If you're familiar with Seibold's other works, (Olive, the Other Reindeer is one of our favorite holiday books), you'll recognize his signature vibrant and just plain wacky illustrations.
Thanks to Chronicle Books for Shadow and Other Goose: Re-Nurseried!! and Re-Rhymed!! Childrens Classics— two new fabulous additions to our home library that I highly recommend to parents for creative and fun reading experiences.
Reading is a beloved hobby that Dawn shares with every member of her family. Their stories are shared regularly on her blog, my thoughts exactly.