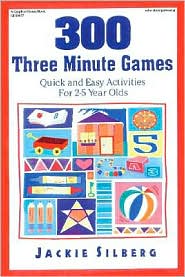 Do you have a 2-5 year old? Then you will want this book. 300 Three Minute Games: Quick and Easy Activities for 2-5 Year Olds
is filled with "quick and easy activities" that you can use on the go. I got this book right before we went on vacation and I browsed it quickly for some game ideas that I could potentially use when on the airplane and in need of some distractions. This book has all kinds of suggestions for games you can play when you need to be quiet, when you are waiting, thinking games and then of course, outdoor games, stuck inside games, etc.
Games, games, games. There were a lot of good ideas in this book that caught my son's attention when I needed it most. It can be a terrifying thing to take a toddler on an airplane. Toddlers are unpredictable people. Adults are really rather predictable. Predictable adults who are not in possession of an unpredictable toddler generally would not like to be bothered by such. It can become rather tense and stressful. If you have a small child and have traveled with them on an airplane, no doubt you know EXACTLY what I'm talking about!
You'll be happy to know that we survived the flight. The last fifteen minutes, when all of his patience was about used up, was when I employed a few of the "waiting games" the book suggested. We played "Copycat" where he had to do whatever I did. We made funny faces and tried to express certain emotions, we did a few finger plays and played "find the color." Success! This book was a lifesaver for me and I heartily recommend it!
Just a little tip from me to you! You can thank me later.
Carrie comes by her book obsession honestly, having descended from a long line of bibliophiles. She blogs about books regularly at Reading to Know.