At it's heart, The Returning is a book about a family shattered by a father's alcoholism, and the struggle to put the pieces back together when he returns from a 5-year prison sentence. As usual, author Ann Tatlock brings much more to the story.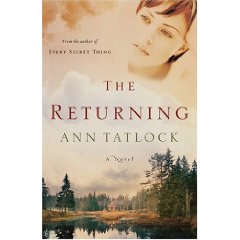 John and Andrea have three children: Billy, who has Down's Syndrome; Rebekah, who is dabbling in the occult; and Phoebe, who has never met her father. As Andrea grapples with the implications of John's return, the children try to figure out where he fits into their lives.
For Billy, it's as if his dad never really left. His love and devotion are evident. Rebekah, who had been the apple of her dad's eye, wishes he'd never returned. In his absence, she's gone searching for love through witchcraft and her boyfriend. And for Phoebe, John is a stranger everyone is calling Dad. Andrea's love for John hasn't changed, but John has.
He met Jesus in prison.
Will John's "jailhouse conversion" stick? Can he convince Andrea and the children that he's genuinely changed, and home to stay? Tatlock brings the reader along the bumpy road of adult temptation, succumbing to teen peer pressure, dealing with a handicap, and restoring a marriage that has been pushed to the brink. The characters are flawed, but real.
Tatlock doesn't write with rose-colored glasses, which is exactly why I enjoy reading her work.
Melissa has been captivated by books for as long as she can remember. She resides in Virginia at at Breath of Life.