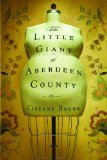 To give a synopsis of this story seems quite daunting to me, as the complexities of the novel are hardly recognized in a few sentences. The Little Giant of Aberdeen County, the debut novel by Tiffany Baker, is a story that follows the arc of a woman's life from birth to middle age, but in no way is that life typical. The story is often painful, the characters are frequently harsh and hurtful, but the voice of the protagonist is a quiet and quite unassuming one, even though her person is literally larger than life. Yes, this is a story of a giant.
At least that's what Truly Plaice is told as a five year old by her astounded teacher as the only possible explanation for her much-larger-than-normal body– "You're a little giant!" She proceeds to live her life trying to fade into the background, which as you can imagine is more than a little difficult. The cast of characters stays small in Truly's life, since she never leaves her small town, and she suffers the indignities of essentially being the town freak. But, throughout the various hardships she has to endure, she does just that. She endures.
I found there to be an almost magical tone to this novel, even though it takes place firmly in a realistic setting of a small New York town, beginning in the 1950's. Perhaps it was the lyrical quality of the language– when Truly expressed her feelings, I found myself going back to underline passages and dog-ear the pages. The novel moves along at a perfect pace, and I easily tore through the book in two days, which can be quite a feat for a mom with three young children!
I could have done with a bit of a difference at the end– one plot twist simply seemed too unjust for Truly– but all in all, this was a magnificent debut novel, and I wholeheartedly look forward to Ms. Baker's next offering.
Would you like to win one of four copies of this new novel? Please leave a comment here, and we'll announce the winners on January 28 when we announce our next giveaway. This is open to U.S. and Canadian shipping addresses and is void where prohibited.
Don't miss future reviews and giveaways. Subscribe to our feed.
The winner of last week's book The Book Tree is #59 Megret.
This unique novel has been included on our list of 5 Star Reads.
Guest reviewer Dawn blogs at my thoughts exactly while keeping up with three wacky kids.