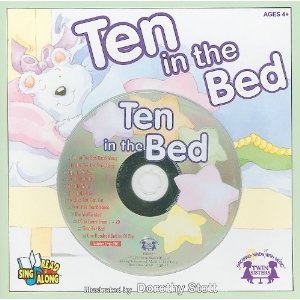 At the Book Expo I came across the Twin Sisters booth. I was familiar with their offerings but it had been several years since I had checked in with them. As far as I knew – they dealt mostly with music CD's and not books. Apparently I'm a bit behind the times because they are doing both books and music! I was delighted to see that they had cleverly combined the two and had created some delightful Read & Sing Along books for babies and toddlers! Twin Sisters kindly sent me some samples of books in this particular series and my boys and I have had a lot of fun checking them out!
This series of books highlight songs that you are all probably very familiar with. The title of each book indicates the main track on the CD and also is the song which the book illustrates. For example, in Ten in the Bed
we are given a book to read along with as the story is first read and then sung. We watch as ten little bears take their turn rolling over and falling out until the last little one has the bed all to herself and says, "Goodnight!" There are twelve songs total on this disc and you can also print off the lyrics from the CD if you would like to do so. These books really have it all. Ten in the Bed
includes well known tunes such as This Old Man, THe Muffin Man and (every mother's favorite) One Hundred Bottles of Pop. (I used to love to sing that song when I was younger!)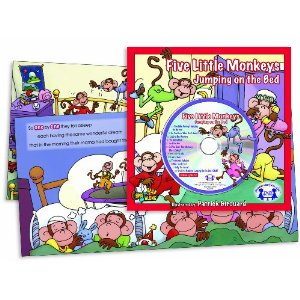 There are a variety of titles to choose from in this series. The nice thing is they are also extremely affordable at only $4.99 a title! That's not a bad price at all and makes for a great little Christmas or Birthday gift! It's also a fun baby shower gift to throw in along with a new little outfit. I am so pleased that Twin Sisters made such an affordable gift that is fun to kids and parents alike as they familiarize themselves with new songs and enjoy some old favorites.

Last year I was looking high and low for a good children's CD which would include the song The Twelve Days of Christmas
so I was delighted to see the Twin Sisters book by that title! I've excitedly tucked this one away, waiting to pull it out this holiday season. The book illustrates the song nicely, in a cute but simplistic way so that the children can hear what the individual gifts are as well as see them for themselves. I like that the illustrations focus on the gifts only and do not try to put them into any particular setting. This is a really fun song but for a little kid who is trying to learn it, the gifts can run together so that it makes it hard to catch on. I think this particular Twelve Days of Christmas
book/CD set is fantastic! Another great Christmas title from this series is Down Through the Chimney
which includes such songs as Up on the Housetop, Five Little carolers, and Here We Come A-Caroling.
As I mentioned, there are quite a few titles in this series and not at all hard to find one that would suit the little one in your life. You might check out B-I-N-G-O
, Old Macdonald Had a Farm
or The Wheels on the Bus (Read & Sing Along) Book & CD Set
for every day fun. They also have faith titles such as Jesus Loves the Little Children
. Twin Sisters does produce some quality children's music (and now books!) for little children and I think you'd find these enjoyable. I know we have.
Thanks, Twin Sisters, for allowing us to test out some of your new Read and Sing Along Books! We appreciate your willingness to allow us to give them a listen!
Carrie enjoys singing familiar songs with her two sons. She blogs about a variety of children's books that she and her children have enjoyed over on her book blog, Reading to Know.