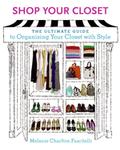 When I first saw Shop Your Closet
by Melanie Charlton Fascitelli, I thought it was going to be a guide on how to put together new outfits from the existing clothes in your closet. And while she touches on those topics in the first few chapters, it's also a guide for organizing your spaces.
Shop Your Closet
gives tips on how to care for your clothes, shoes, and handbags; how to store out of season clothes; how to organize your closets; and how to make the most of the space you have.
A lot of it is common sense. I don't consider myself a particularly organized person, but I already do a lot of what she suggests. I did learn a few things though. For instance, I learned not to store out of season clothes in plastic dry cleaner bags. OOOPS!! I also liked the section on what to fold and what to hang. And the one on proper folding techniques was helpful as well.
It is well laid-out and easy to read, and she includes pictures and diagrams of her organizational advice. There are even sections on organizing your coat closet, linen closet, pantry, and medicine cabinet. If you are organizationally challenged and want help getting your spaces in order, this book would be a great resource for you. In fact, I'm willing to pass my copy along.
If you'd like a chance to win my copy of Shop Your Closet
, leave a comment on this post, telling me why you need help organizing your spaces, and I'll select a winner on July 26. You must have a U.S. postal address in order to win.
Jo-Lynne is a mom of three young children and blogs daily at Musings of a Housewife, and she runs a beauty product review blog, Chic Critique.