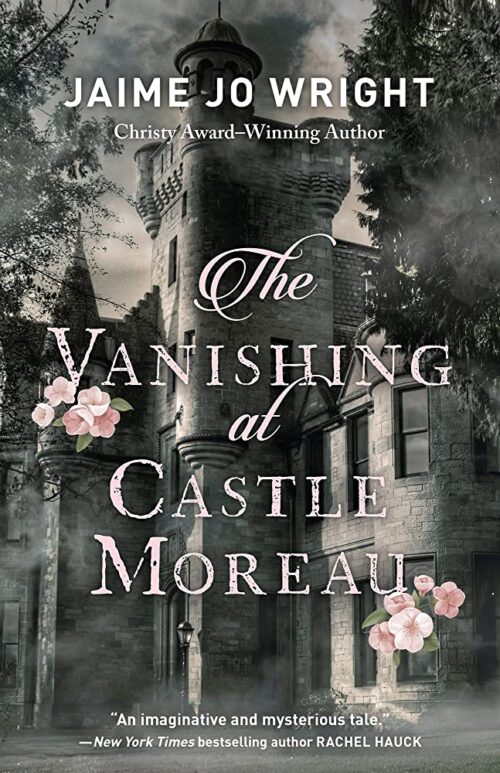 Castle Moreau, built in the late 1700s in a wild bit of forested wilderness on the banks of the Mississippi River in the Midwest, has a dark reputation. Ever since its inception, women from the surrounding areas have just vanished. Gone missing, never to be seen again. One of the first was a farmer's wife, her husband taciturn and violent. One of the most recent was a girl from a good family in the 1980s. The thick stone walls are surrounded by swirls of rumor and trepidation. It doesn't help that the daughter of the builder was a renowned gothic author, famed for gory details of terror. The current scion, Deacon, is a wealthy playboy, famous around the country for his good looks and wild escapades.
Cleo knows this when she takes the job of helping Deacon's grandmother (and only living family member) deal with her hoarding issues. But Cleo's on the run from her past, from a grandfather much beloved, also monstrous, now dead, and a little sister whom, Cleo's convinced, will only survive if Cleo is gone. This job offers payment under the table and no background check in return for secrecy–so desperate is Deacon to avoid media attention.
Cleo's story echoes that of Daisy Francois from a century earlier. Daisy, orphaned and then adopted by an abusive family, has fled to the arms of the Castle, also leaving behind 2 younger girls. She takes a job as a housekeeper but finds a giant castle with 3 sole occupants–Ora, the daughter turned gothic novelist, who guards her mystery closely; Lincoln, her grandson, hidden in a study most of the time; and Festus, the odds job man. No one seems to expect her to clean. When Daisy finds an injured woman in the woods and brings her to the castle to heal, she begins to find out that the castle will do its utmost to guard its secrets.
The story moves back and forth between Daisy, Cleo, and Ora Moreau herself as a child, visited by a phantom woman with a crooked hand who tells her dark stories. It seems as if Castle Moreau indeed is a very dark place, and yet there always seem to be hints that the reality may not match the facade. Will Daisy or Cleo be able to figure things out before it's too late, or will they join the ranks of the vanished women of Castle Moreau?
The Vanishing of Castle Moreau is a gripping read. I knew there was a twist coming, but I couldn't figure it out. It's well-plotted with lots of winding turns thoughout, and the characters are thoroughly likable. It's a book with a message too (I'm not telling you it cuz that would be a spoiler, but you can see it coming), life-affirming and courageous. Highly recommended if you're in the mood for something Gothic and entertaining.
Book Links:Amazon | Barnes & Noble | BookShop.org | Goodreads | Baker Book House
Author Bio:
Jaime Jo Wright is the author of six novels, including Christy Award winner The House on Foster Hill and Carol Award winner The Reckoning at Gossamer Pond. She's also the Publishers Weekly and ECPA bestselling author of two novellas. Jaime lives in Wisconsin with her cat named Foo; her husband, Cap'n Hook; and their littles, Peter Pan and CoCo.