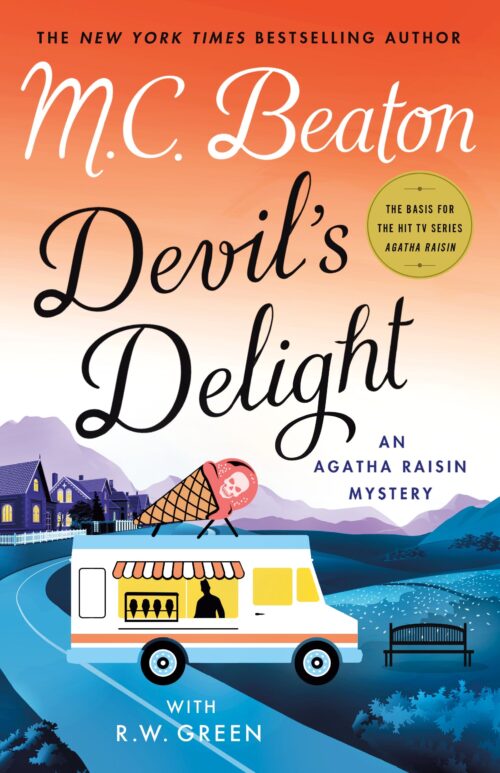 Detective Agatha Raisin and her assistant are driving through the beautiful Cotswold countryside when they are confronted with an unusual sight–a young man running frantically towards them, completely naked! When they stop to see what's going on, he tells them a tale of a dead body, but when they follow him, the body has disappeared. It surfaces a few days later in a nearby lake, and proves to be that of the owner of a local ice cream empire.
Investigating soon gets sticky. First of all, there's the naturalist group, with a side of occult practices. Then there's the ice cream shop headed by the new widow, suspiciously carefree. Meanwhile, Agatha has her team investigating drug deals in the local high school and potential thefts at a local business to boot. Do any of these tie in to the murder? To complicate matters is Agatha's personal life, complete with loves both new and old. The closer she gets to solving the case, the more in danger she finds herself. Someone is determined to make her pay for her investigation with her life!
Author MC Beaton created the character of Agatha Raisin and wrote many of the books in the series. Since her death, the series has continued under the pen of her friend RW Green. Devil's Delight was my introduction to Agatha Raisin, so I can't say how it compares to the other books. However, while I did enjoy it and will recommend it, there were things about the book that bothered me, although it's hard to articulate why. It's the same feeling I get reading the talented Sophie Hannah's attempts to recreate Agatha Christie's Hercule Poirot, so I'm inclined to give this feeling weight although I freely admit it's possible I'm being unfair. If you've read the original Agatha Raisin books, please read this one too and weigh in. I'm planning to read some and may edit this paragraph afterwards. In the meantime, if you're in the mood for the adventures of a free-spirited woman enjoying life and pursuing murderers from a thatch-eaved cottage in a charming English village, you'll love this book!