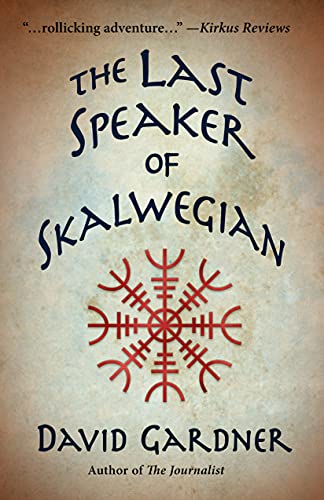 Lenny Thorson's life leaves much to be desired. A gentle soul, often lost in his thoughts, he's a linguistics professor at Ghurkin College, a fourth-rate school that won't even give him tenure. He lives in an abandoned revolving restaurant set atop a 10-storey insurance building, surviving on the restaurant's abandoned stock of frozen lobster tails and boysenberries. He's in trouble with the dean for failing the school's twin football stars, two young men who didn't even bother to show up for first year French class. He's in an uneasy relationship with the chair of his department. What could get worse?
Lenny's friend Charlie claims to be the last speaker of Skalwegian, an obscure Norwegian dialect from a small island located 80 miles north of Norway. Lenny has been dutifully meeting with Charlie to research and record the language when, during an interview in the local television news studio, he notices Charlie making some basic mistakes. Does Charlie actually speak Skalwegian, or is Lenny's whole career threatened by a lie?
The Last Speaker of Skalwegian is a comic novel, and as such, has an amazingly convoluted plot and lots of eccentric characters. Lenny is a likable protagonist, in love with etymology and happiest lost in his own thoughts, unaware of his own strength and attractiveness because he only wants to avoid attention. The dean is a grasping, avaricious man involved with the local mob boss and raking in thousands on the side. Charlie is a picaresque character who does what he wants.
The book took me a little while to get into, as I got used to the writer's style, but it was worth the effort. Although it's a light-hearted novel, it none-the-less takes a sharp look at the often unregulated corruption that exists in academia, with lots of money for football stadiums and little to none for linguistics and other academic pursuits. Yet it manages to never take itself too seriously. A fun read! Recommended.
Purchase Links:Amazon | Barnes & Noble | Goodreads
Author Bio:
David Gardner grew up on a Wisconsin dairy farm, served in Army Special Forces and earned a Ph.D. in French from the University of Wisconsin. He has taught college and worked as a reporter and in the computer industry. He coauthored three programming books for Prentice Hall, wrote dozens of travel articles as well as too many mind-numbing computer manuals before happily turning to fiction: "The Journalist: A Paranormal Thriller" and "The Last Speaker of Skalwegian" (both with Encircle Publications, LLC). He lives in Massachusetts with his wife, Nancy, also a writer. He hikes, bikes, messes with astrophotography and plays the keyboard with no discernible talent whatsoever.