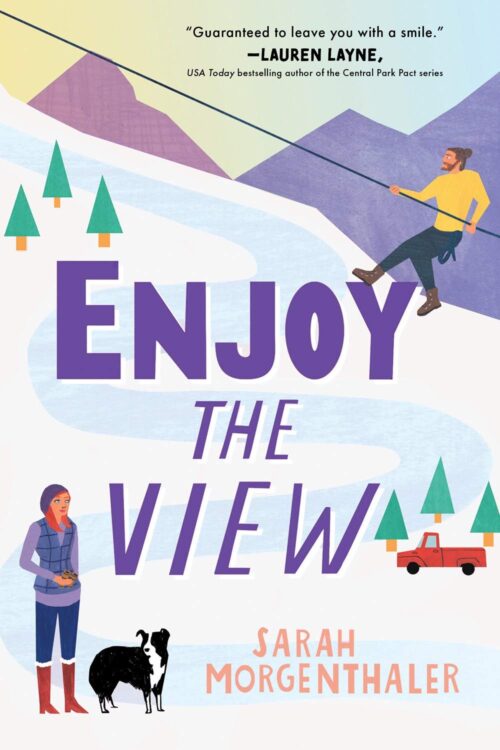 Sarah Morgenthaler may be fairly new to the publishing world, but her Moose Springs, Alaska series is already setting the rom-com world on fire. Her third book, Enjoy the View, is available now, and is the first that takes place predominantly on Mt. Veil, rather than in the town of Moose Springs, and during the summer, instead of the Alaskan winter.
Easton Lockett is the proverbial mountain man with a heart of gold. So when he sees a woman on the highway, pulling a suitcase, heading away from town, he can't help but stop to help. Only he's far from the first person to do so, and River Lane is starting to get really mad. Because the town of Moose Springs won't let her and her crew shoot their documentary there, so she's resorted to a shot of her on the highway. But people keep stopping, and they're ruining the shot.
River is determined to get her documentary about Moose Springs filmed and prove herself as a director and not just a washed-up actress, and when she runs into red tape that would need a chainsaw to cut through, she hires a guide to take her up Mt. Veil. Only she's shocked to find out that that guide is Easton.
Easton and River are drawn to each other, and after a thin attempt to keep it platonic, they give in to their feelings. But Veil is a mountain that requires not only good climbing skills, but no distractions, and a budding relationship is a major distraction. Not to mention a freak summer snowstorm, the camera equipment needed for filming, and the appearance of a marmot who is just as attracted to Easton as River is.
While I liked the first two books in the series better, it was fun to have this one take place on the mountain instead of in town. I am not a climber, and the idea of scaling a sheet of ice does not appeal to me, but I like reading about things I would never do. I also liked the ending, which wasn't quite what I expected, and the appearance of Jake, the blind Border Collie belonging to Easton's friend Graham.
While characters from the first two books make an appearance in Enjoy the View, it's not necessary to read those to be able to follow the story. However as I said earlier I did like those better, and highly recommend them, starting with The Tourist Attraction.