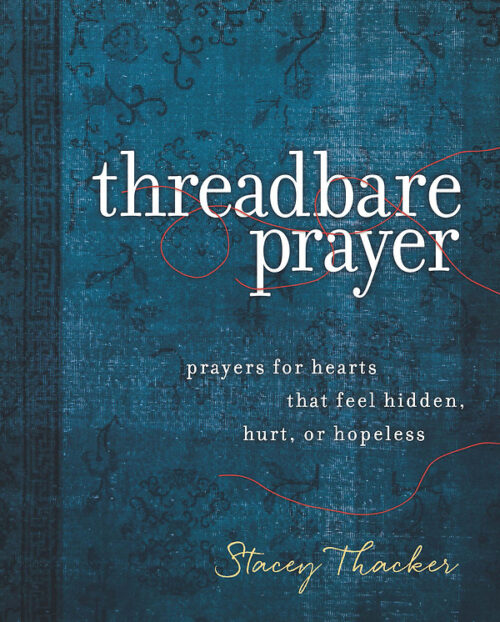 I think that we instinctively know what is meant by threadbare prayers. In a year that has included levels and layers of loss for all of us, we may feel as if we're worn beyond mending.
Stacey Thacker knows. As she walked through several wilderness experiences, she jotted down prayers in a notebook–prayers that sometimes were nothing more than simple phrases cried out by a hurting heart to a God who is there. Her friends encouraged her to share these prayers with others, and the result is Threadbare Prayer. The slim book is filled with deceptively simply prayers reflecting complex realities and emotions. I highly recommend Threadbare Prayer as a resource and comfort, for yourself or someone else you know who might feel she's barely holding on.
Below is part of an interview she did about the book.
Q: Tell us a little bit about your new book, Threadbare Prayer. Who did you write it for and how is it intended to be read?
Let's begin with who I thought about when I was writing this book. I thought about my friends, women I know from college and bump into at church or online who are feeling discouraged, overwhelmed, desperate and broken. Right now, I think that describes a lot of women—they feel worn and like they are hanging by a thread.
At the core of her heart, I think a threadbare woman is determined not to put distance between herself and God—but to draw near, press in, and cling to the hem of his robe. She shouts her ache to Jesus who she knows is holding her heart.
This book is a way to do just that. I wrote it so we could all focus on the Word, honestly pour out our threadbare hearts, and hold on to Jesus. He does beautiful work in our broken places if we let Him.
Q: In the book,you share stories of some of your own threadbare moments. Can you share some of the times when you have found yourself grasping for words to pray?
Throughout the book there are glimpses of some of my most threadbare moments. They include a period of three years where my dad passed away, my almost 9-year-old daughter was diagnosed with a severe and relentless chronic illness, and my husband suffered a sudden cardiac arrest. I found myself alone, fearful, weeping, and wondering what God was doing.
During each of these times, I would describe my prayers as desperate and simple. I didn't have fine or fancy words. I couldn't remember long passages of Scripture. I just had small breath prayers that I repeated over and over. "Lord, you are my shepherd, and I lack nothing" (Psalm 23:1) was one that I prayed when Mike was in ICU and later in rehab. I knew, Jesus was enough. He wasn't threadbare, He was holding on to me.
Q: Is it always a major life event or stressor that causes threadbare periods or can these times also come from busyness and general weariness?
I think right now we are seeing that being threadbare can actually be a lot of little things that we are faced with in everyday life. Pandemic? Suddenly being HOME for 6 months, virtual learning, having to figure out how to see our parents who live in another state during quarantine?
I actually found the word "threadbare" in a book I was reading. As I read it, the word "stuck" in my heart, and I looked down and noticed my jeans had become threadbare and worn at the knee. Little by little with daily wear and tear, the hole got bigger. Isn't that a picture of how little things can wear on us and we find ourselves hanging by a thread just trying to get the laundry finished or the groceries put away?
Q: How is it possible to pray when you don't have words?
One of my favorite verses is found in Romans 8:26 and it says that "…the Spirit helps us in our weakness. For we do not know what to pray for as we ought, but the Spirit himself intercedes for us with groanings too deep for words." The Spirit knows our hearts, and we can trust Him to "tell the Father" on our behalf. That gives me freedom to know if I can't call up the words, He is not speechless. The threadbare prayer in this verse, "Lord, I don't know what to pray, but you do," says it all.

Visit Stacey Thacker online at staceythacker.com. She can also be found on Facebook (@OfficialStaceyThacker), Twitter (@staceythacker), and Instagram (@staceythacker).