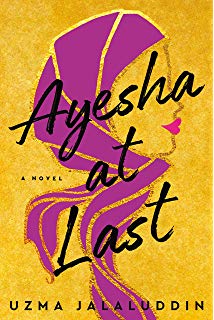 "Because while it is a truth universally acknowledged that a single Muslim man must be in want of a wife, there's an even greater truth: To his Indian mother, his own inclinations are of secondary importance." So begins this light-hearted homage to Jane Austen's Pride and Prejudice set in modern-day Toronto amongst an Indian Muslim community where arranged marriages are still commonly accepted.
Ayesha is fiercely independent but still very close to her extended family, who took her in, along with her mother and brother, when they left India after the death of her father, when Ayesha was 10. She wears the hijab, works as a high school teacher, and longs to be a poet, even reading her poetry aloud on open mic nights. She meets Khalid at one of these nights. He's deeply shy and conservative, and comes across as disapproving and stand-offish. He is content to let his overbearing mother arrange a marriage for him, and he's comfortable dressing in traditional clothing which has changed little since the 7th century, and keeping his beard long. He doesn't even shake hands with women! Ayesha may fit the traditional women's role in some ways, but she is a very determined young woman and has a strong voice that she is not about to let be silenced.
The role of Lydia (from Pride and Prejudice) is amply filled by Ayesha's flighty young cousin Hafsa, who is self-focused and a perfect foil to Ayesha's serious outlook on life. The problem is that Ayesha can't turn Hafsa down. So when Hafsa begs Ayesha to take her place on a panel to plan an upcoming youth event at their local mosque, Ayesha does it. Khalid is also on the committee. He meets her as Hafsa and in spite of himself, begins to fall in love. But the course of true love never did run smooth–yes I know that's Shakespeare not Austen!–and the two are in for their fair share of miscommunications, upheavals, and adventures.
Ayesha at Last  is delightful. It's a really fun read, and of course in these retellings it's enjoyable to figure out which part of the original in which in the new version. Author Uzma Jalaluddin does a great job at following the original enough while at the same time creating her own world and her own characters, all of which are well-realized and believable. I really enjoyed this book and highly recommend it. It's a great summer read, and gives a glimpse into a community that seem to be as foreign as the 18th century, but which is populated by people with the same dreams and goals as our own.
publishes june 3