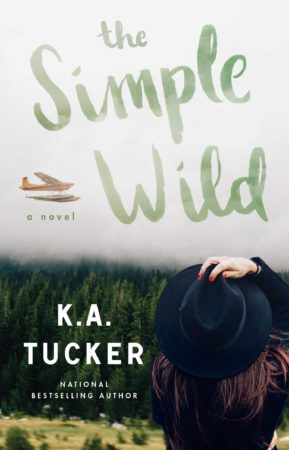 I've been reading a lot of thriller/suspense novels lately, so when I got the latest audio book email from Simon & Schuster I specifically looked for books that are a little lighter. KA Tucker's The Simple Wild was one I picked, and while there are some more serious moments, it was a nice change of pace.
Calla has spent most of her life in Toronto, living with her mother and step-father who she loves fiercely. When Calla receives a call that her father, Wren, who she hasn't heard from since he canceled a trip to visit her 12 years earlier, has been diagnosed with lung cancer, she decides it's time to finally visit him in Alaska, the place her mother left when Calla was a baby due to the harsh living conditions.
Calla is a city girl all the way and not a fan of flying, especially in the tiny planes that are part of Wren's charter business, Alaska Wild. Jonah, the pilot who flies her across the state doesn't make it easier, purposely taking a plane that won't fit her luggage, and she nicknames him the Yeti, due to his long straggly beard, and his bad attitude toward her.
As Calla slowly gets to know her father, she also learns to know the man under the beard, and she and Jonah grow closer. But she's determined not to repeat her mother's mistake, falling for a man from a very different world. When Calla learns the truth about Wren's diagnosis, she has to make some very hard decisions.
The Simple Wild is a bit predictable, with it's high maintenance and judgmental city girl falls for the mountain man with a heart of gold love story, but that didn't mean I enjoyed it any less. The secondary characters that round out the story, especially Wren's close friend Agnes and her daughter Mabel, help with Calla's acceptance of both her father and Jonah.
As summer turns into fall, curl up in front of the fire pit with The Simple Wild. You won't be disappointed.
Notes on the audiobook: The Simple Wild is read by Rebekkah Ross and as I always I enjoyed her narration. With a running time of just over 12 hours and 30 minutes it's the perfect length and kept my attention throughout.