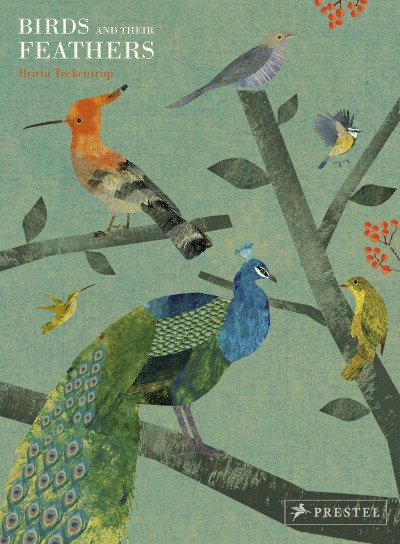 With a cover that would be appropriate on a museum wall, Britta Teckentrup's Birds and Their Feathers makes for a unique book geared toward children but most definitely fitting for anyone who appreciates beautiful paintings and is interested in learning more about feathers, from their structure to the different types, colors, and purposes they serve.
Unlike many children's nonfiction books, this book doesn't rely on photographs but instead presents artwork that is at times intricately detailed and sometimes more softly portrayed. The paintings depict varieties of birds and close-up renderings of individual feathers alongside descriptive information that delves into the science behind them. The wealth of info contained in this book will surely answer any curious budding birder's questions, such as how many feathers can a bird have? or how can one feather have several colors? or what bird has the longest or shortest feathers?
The information is presented in a sophisticated manner that doesn't talk down to young readers, but instead might challenge them to think critically as they read along. Each section and mini-topic may only span a few sentences to a couple paragraphs, but it clearly represents solid research and scientific knowledge.
With many educational programs putting a greater emphasis on reading nonfiction texts, this almost-90 page book is a wonderful example for inclusion in higher elementary and middle school level reading programs for its depth of information and appealing presentation. At home, this beauty would be a perfect addition to a coffee table or shelf display and would make for interesting passage readings, as well.