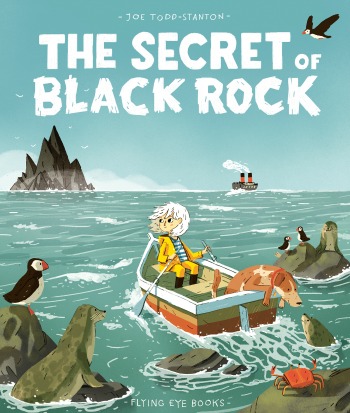 In a big fishing town, an adventurous girl named Erin Pike lives with her mother and dog. So far, she hasn't been able to take her explorative nature out to sea because of a scary local legend. But in The Secret of Black Rock by Joe Todd-Stanton, Erin is determined to bring the truth to light.
All the fishermen and fisherwomen have stories about Black Rock… and they're all dangerous. Its size is daunting, and people even swear that the rock moves around! Boats are never safe in the area of Black Rock, but Erin really wants to try to get close. So she sneaks onto her mother's fishing boat, hoping to see it for herself. Unfortunately, things don't go quite as Erin planned, though she does indeed get to see Black Rock up close.
What she discovers as a result of this accident is the biggest surprise of all, for Black Rock isn't exactly what everyone has always believed!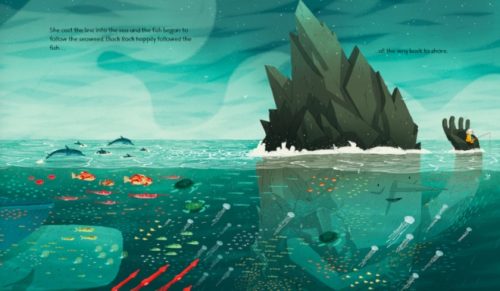 There is just so much to love about this picture book. Erin's spirit is absolutely indomitable when she's trying to get out to sea, and that's just the beginning because when she discovers the real story behind Black Rock, her true character shines through. Her kindness and empathy are evident, in addition to her willingness to put herself in danger's way to save another.
This is the kind of picture book that makes me wish I was still teaching preschool, because this book begs to be enthusiastically read aloud to a group of children. I highly recommend this new offering from one of my very favorite publishers, Flying Eye Books.