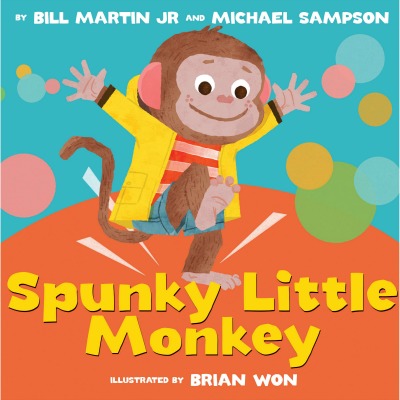 Sometimes you want a picture book that will inspire your little one to climb onto your lap and snuggle close while you quietly tell a story that helps lull them off to sleep. Other times you want to share a story that will get them moving, make them giggle, and encourage them to repeat the words along with you. Spunky Little Monkey by Bill Martin, Jr. and Michael Sampson, and illustrated by Brian Won, most definitely fits into that second category.
This high-energy story starts off with a sleepy monkey who doesn't want to get up in the morning, but upon some advice from his doctor (who his mother called, as mother monkeys are wont to do in children's rhymes!), it is clear that Monkey simply needs some exercise.
Adapted from the familiar rhyme "Down Down Baby," this picture book gets Monkey — and the children lucky enough to have this story read to them — bopping their heads, clapping their hands, stomping their feet, and shaking their hips. With repetition and rhythm, even young toddlers will pick up on the pattern and be able to follow along.
Whether you're reading this to one child or a group of kids, it's guaranteed to bring about smiles. It's perfect for getting out some energy on a cold, wintry day inside!