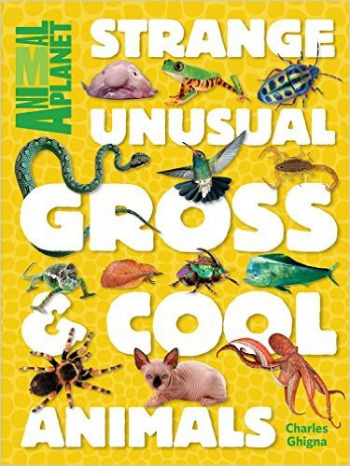 Children's nonfiction has come a long way since I was a kid. No longer do the selections have to be dry and boring, for publishers and authors are adept at creating informational texts that appeal to children with eye-popping images and interesting layouts that encourage young readers to keep turning the pages. This is most definitely the case with Charles Ghigna's Animal Planet Strange, Unusual, Gross, & Cool Animals, a book that I recommend offering to your older elementary school aged kids for a wild read.
Those four classifications in the title make up the sections of the book, so readers can skip around to the types of animals they want to learn about specifically with each reading. And trust me when I say that those are the perfect adjectives to describe the animals highlighted!
The more than 200 photos included in this edition are spectacular– clear, close-up, and printed large enough to see great detail. Though children can simply browse through the pages for entertainment, there is also an organization system to the layouts. According to the publisher, these are the four ways in which information is presented:
Gallery spreads explore a theme, introducing several animals that live in different parts of the world but are adapted to their environment in similar ways
Featured creature pages highlight one extraordinary animal through a detailed description of its life
Creature collection spreads bring together a group of animals to compare, contrast, and learn more about their similarities and differences
Macroview pages show tiny details of very small animals through gorgeous macrophotography
I have to admit a personal affinity for the section about bugs, which they've chosen to put in the "gross" section… to each his own, perhaps. The images are incredible, and insects from all over the world are included in one creature collection spread. Animals of all sorts from a wide variety of habitats fill the pages, so there are certainly ones that will appeal to any reader, but they're all definitely remarkable!
This type of children's nonfiction not only serves as a good resource, but also invites readers to return again and again. If you're looking ahead to holiday shopping, this book would make a perfect gift for the curious child in your life.