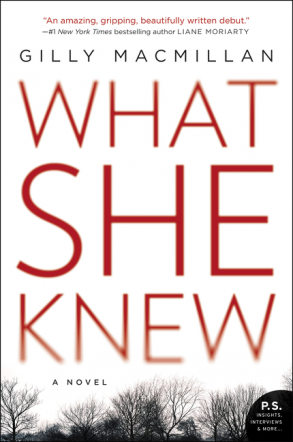 On a perfectly normal Sunday afternoon, single mum Rachel Jenner lets her 8-year-old son run ahead while they're walking their dog in the woods. She wants to teach him independence, and it's pretty low-risk area, popular with mums and kids, full that afternoon of a fantasy enactment group with capes and swords, and kids playing soccer. But when Rachel gets to the pond by the swings, Ben is missing. When police search the area, they find all his clothes in a plastic bag, and the dog cowering nearby with a broken leg.
The book is told from the perspective of one year on, and it alternates between Rachel's voice and notes taken during counseling sessions attended by the detective in charge, Jim Clemo, who has been ordered into counseling as he's dealing with severe depression and insomnia. It's obvious that mistakes were made all along the way, but author Gilly Macmillan teases it out, keeping the reader on the edge of her seat as she takes us deep into the abject misery of a mother whose son has been kidnapped.
Additionally, there are blog posts from a site set up to cast doubt on Rachel herself, and she comes under attack via social media and all the vitriolic hatred that people seem to spew forth on the internet. This is one of the more interesting aspects of the book. We see how Rachel will probably never live down the harm done her reputation, simply because people are all too ready to attack each other. Things escalate to graffiti on her back wall and vandalism of her house, and the police are unable to ultimately protect her ex-husband.
What She Knew
is a very good suspense novel. The alternating voices, Rachel's descent into what feels like madness, the suspense as the days tick on with no sign of Ben, the suspicion that falls on Rachel, on her ex-husband and his new wife, on her seemingly-perfect sister, on Ben's teacher's assistant–all build and build to the point where the urge to peek at the end of the book is nearly unbearable. But what really takes it up a notch is its commentary on the role media plays in modern tragedies, and as such, it is thought provoking.