A couple of weeks ago, I wrote about a new subscription service for book lovers, My Book Box. Basically, you choose two genres, then every month you receive two recently-published paperbacks plus a fun extra. The lovely and generous people (all siblings) actually sent me 2 boxes, and they are fantastic. Each box had several fun extras.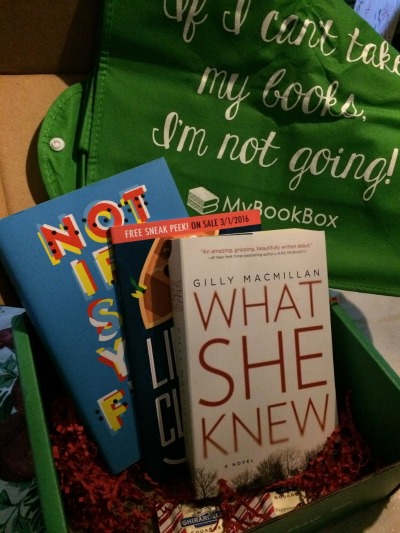 My first box contained a book each from the mystery and YA options, plus a fun tote that says, "If I can't take my books, I'm not going." Um, yeah. Of course you can bring your books, although I used to point out to my daughter that she didn't actually need 17 books for a 3-day weekend away (this is not an exaggeration. See here) . This tote folds up nicely so it would be perfect to bring along on long international trips, where sometimes the cases are a bit full on the way back and your husband can't understand why you brought so many books and can't you leave some, and you could just put them in this tote and have an extra carry on. They are not as fussy on international flights. I happen to know this.
Additionally, tucked into the box were 2 Ghirardelli chocolate squares (peppermint bark for the holidays!) and a sneak peek at a book coming out in March. Plus, each book has a bookmark personalized to the book, explaining why they chose that particular one, what appealed to them about it.
In the other box was the brilliant book Mother Goose Bruce, as well as a poster and an apron that says, "A mother like no other." It's adorable. Plus, there were also 2 chocolates, the bookmarks, and the women's fiction option–All of Us and Everything
, which I've started and I'm already hooked on.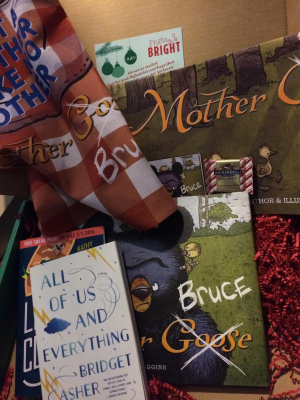 To sum up, all the selections in My Book Box look fantastic, and I'm thrilled with the extras. I will never tire of getting books to read in the mail, and the extras were fun and thoughtful additions. If you'd like to sign up for yourself, use the code BOOKSFORMOM and save 20% on your first order.