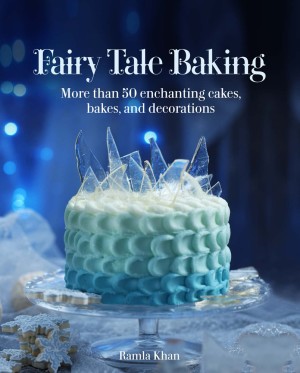 A question every mother of young children faces this time of year: how to keep kids happy and busy for 2 weeks of home time? A perennial favorite is always baking. I actually love baking, and miss doing it with my kids (who have somehow gotten all big and busy and off to college). Baker Ramla Khan has always loved fairy tales and with the help of a little pixie dust (these cakes are so gorgeous I'm pretty sure she had to have had help), she's put together a cookbook so that anyone can create these at home.
This is a gorgeous cookbook full of fantastic ideas. It's organized around 15 of Khan's favorite stories. Each fairy tale theme contains some very complicated ideas–like making a Snow White out of gum paste or a cake shaped like a teapot. Although they come with detailed instructions, with each step well-illustrated, I am pretty sure I can't make a cake that looks like a pirate ship, with edible sails, for Peter Pan. I have yet to be discovered by my fairy godmother, so I can typically produce things that taste good but look a bit like they were decorated by a 5 year old. But each chapter also includes some things that mere mortals can make in the kitchen, and make look good. I was initially very skeptical about this book's claim that certain things could be made by anyone, but I was game to try. I invited a six-year-old friend over and chose two options–Queen of Hearts tarts and Bramble Tartlets with Chocolate Thorns (from Sleeping Beauty). I even had all ingredients already in the house.
Please click through to 5 Minutes for Mom to read my thoughts on Fairy Tale Baking and see pictures of my attempts.