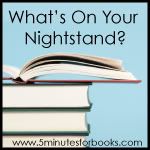 Be social! Follow us on Pinterest and Facebook.
It's been an odd summer. I've had busy times and travel which have forced me to spend the days I have off doing absolutely nothing. I would not say it's been a productive summer by any stretch. Generally I like to do a few projects around the house, but that hasn't happened yet.
I've been doing some personal reading, in addition to my review reading, and that's been fun. I just finished American Wife, which I had been wanting to read forever (you know, like 6 years ago when it was popular). Up next is either The Color of our Sky or The Star Side of Bird Hill.
What about you? Is your reading getting in the way of getting things done this summer? It's okay. You only live once. Admit to it by linking your reading list up below.
If your kids need some more reading material, be sure to check out our Scholastic Giveaway at 5 Minutes for Mom. And if YOU need some summer reading, enter to win a trio of Charles Martin's novels, signed right here.