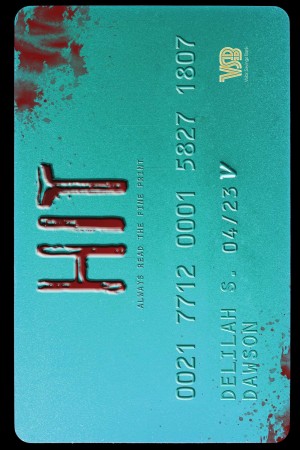 Are you ready for a new dystopian novel for young adults? Hit by Delilah S. Dawson, published last month, meets some of the usual expectations– a teenage protagonist in conflict with a powerful group that calls all the shots, a dash of adolescent relationship angst, and life-or-death scenarios that force the characters to make sacrifices or take actions that would normally be unthinkable. But what we've become used to in these novels is a setting that is far into the future, or one that is out of sync with our regular understanding of time altogether. Adding a different twist, this novel takes place in the U.S. at this exact time, and for much of the time of the story, the average Jane Doe has no idea that everything they know and take for granted in this country has changed, effective immediately.
Here's the summed up version. You know those incredibly long contracts you sign when you apply for a credit card, the ones with all the teeny tiny print? Well, hidden in the agreements people signed with Valor National Bank were terms and conditions that allow the company to call back their debt at any time, and those unable to pay it in cash will face terrible consequences. Now that Valor National Bank has paid off the United States' debt– yes, all of it– they now own the government, and the changes they're making are swift and go against every principle the country was founded on. But, most people aren't even aware of the changes as they continue going about their ordinary, day-to-day lives.
Except Patsy. She knows all of this because the men in the dark suits showed up at her house and demanded that her mother repay her outstanding debt, which in the face of economic and personal difficulties, is quite a sum. Because of this, Patsy and her mother are offered three choices. One, pay it in full. (Yeah, right.) Two, her mother will be killed. Or, three, Patsy will work as an indentured assassin, finding the ten people provided on a list, and giving them the same three choices in relation to their own various debts. So, if they can't pay or don't agree to become assassins themselves, Patsy will be expected to kill them.
The choice she makes is as obvious as it is unthinkable. As Patsy works through her list, she begins to realize that the people assigned to her were not done so randomly, and things only get more complicated when her path crosses with the teenage son of one of the people on the list, who becomes her unexpected assistant even as his own family is represented on Patsy's list.
Action-packed and heavy on dialogue, this YA novel reads on the page just like a movie. (So much so that I couldn't help but look up if the film rights had been secured… though I couldn't find any info about that, I wouldn't be surprised to see this on the big screen at some point!) Hit is both fast-paced and pretty bloody, so not the novel for a quiet, relaxing read. Be prepared for moral dilemmas and reflections on our modern consumerism-based society, along with an interesting young relationship developing in the most bizarre and terrifying of circumstances. Though it wasn't immediately obvious to me through the book or the promotional materials, according to Goodreads, there will be a sequel out next year called Strike. Not surprising at all!