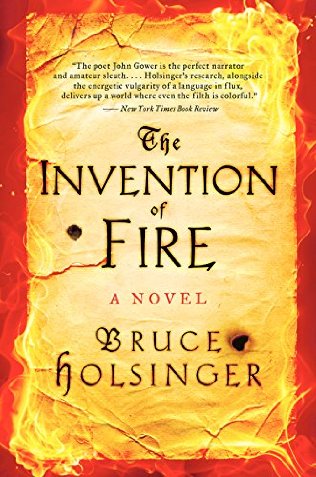 My head has been in the world of the Tudors lately, a late-medieval time with a lack of indoor plumbing and where people were comfortable being incredibly rude and prejudiced to other people in public.
I have been reading the Matthew Shardlake series by C S Sansom, and massively enjoying them. I read the first, Dissolution
, while sick one day, lying in my soft bed and thinking how my daily life is more comfortable than the kings and nobles of old. I'm currently reading the 3rd in the series, Sovereign
, when I should be doing other things. Then, of course, there's Wolf Hall on PBS. Are you watching? Do you love it? Did you know they've lit the entire thing with candles and ambient light? I haven't read the book yet, although my son has it upstairs on his shelf, but of course Donn asks questions that I can't remember the answer to, so my free time is spent on wikipedia and English history sites. Have you read the book? Discuss in comments.
Then I read The Invention of Fire, which is set a couple of hundred years earlier, during Chaucer's time. Daily life was pretty similar and my head kept trying to make the king Henry VIII instead of Richard II. This is the sort of historical fiction with real characters, with the poet John Gower as a main character and his good friend Geoffrey Chaucer showing up as well. (Aside: I love Chaucer.)
You don't have to be immersing yourself in the medieval era to enjoy this book, although it doesn't hurt. This is well done historical fiction, where the author manages to find the fine line between explaining historical reality and keeping the plot moving forward.
John Gower, erstwhile poet and trader in other men's secrets, is called to investigate a mass murder. 16 bodies with mysterious holes in them have been dumped into what passed at the time for the city's sewer system (and it's as disgusting as you're expecting it to be. So thankful for modern plumbing!) He needs to figure out who these men were, how they ended up in this place, and what caused their deaths. And so begins a slow and dangerous undertaking.
The point of view shifts, to Stephen Marsh, a smith who creates the highest-quality bells and is approached by the master smith of the Tower of London with a secret commission to make small gonnes that can be carried by hand and loaded by the shooter himself. We see things from the point of view of his pregnant mistress (used here in the medieval sense of the word–she is his boss' wife, not his lover), to our mystification. And we follow 2 escaped criminals as they attempt to blend in with a pilgrimage. And, inexorably, as things develop, it becomes apparent that all their tales are interwoven. And also that the 16 murders were merely a precursor to something much more devastating, a massacre on the streets of London that will shake even the king himself. Signs seem to be pointing more and more clearly in one direction, and it's by no means certain that Gower can figure things out in time to stop catastrophe.
The Invention of Fire
manages to recreate a bygone world while making it as gripping as anything our own time has to offer. While we may recoil in horror at public executions and children whose ears have been cut off, Gower still uses the same skills that a modern detective would draw on–his wits, observations, and intuition. It's a fascinating story on many different levels, and I found the ending really satisfying. A most enjoyable read. Highly recommended.