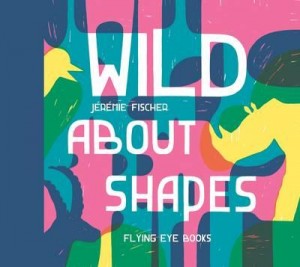 Surprises abound in Wild About Shapes by Jérémie Fischer, as each page turn applies an overlay of blocks of color to the page before, revealing a previously-unseen picture!
The wild part refers to the pictures that are created, something that is hinted at in the cover image. Wild creatures, both big and small, come to life when two colors are combined. Some are easier to see coming than others, with the text also giving small clues as to what to expect at times. The words themselves speak directly to the reader in short, general statements about the behaviors of some animals. When the acetate page with splashes of color is turned, revealing the animal on the other side, the words can even be read again with young children to apply them to the animal now visible.
The spiral bound construction of the book helps it to hold up to the frequent back-and-forth page turns that will inevitably occur. Expect young children to want to flip through these pages again and again, for the beauty in Fischer's illustrations is undeniable and irresistible.