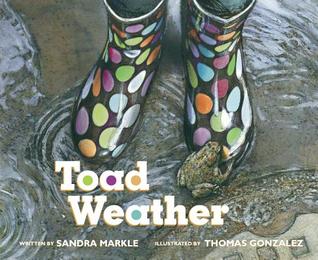 Spring may feel so very, very far away for those of us in areas still looking out the window to piles and piles of snow on the ground, but the calendar tells me that it can't be much longer. Soon, we'll be watching the outdoor thermometers rise, as tiny flower buds creep up out of the soil as the spring rains begin. As we prepare for the seasonal shift, I'm happy to share a new picture book that highlights an actual natural phenomenon.
In Toad Weather by Sandra Markle, a young girl named Ally is feeling down by the rainy spring weather. The joys of her city neighborhood are closed to her when it's so rainy. With no bike riding and no playing at the park, she's at a loss for what to do. When Ally's mother arrives home with an exciting and mysterious plea for her and her grandmother to come for a walk outside, Ally is intrigued. What could her mother possibly find so exciting outside on rainy, dull evening?
Ally's mom encourages them to look closely on their walk, for there are beautiful things to be found all around them. The cityscape and its combination with nature comes to life under Thomas Gonzalez's illustrations, which often resemble photographs for their tight details. His use of watercolors works especially in parts of the pictures that are representing puddles and colorful reflections.
The true purpose of Ally's mom's walk becomes apparent when Ally listens closely and hears a different sound mixed in with the city's usual noises, a whistling sound that only gets louder as they approach an area of the city near some small ponds. What they see as they turn a corner amazes them all– toads everywhere! A great toad migration for breeding season makes for a wonderful family adventure full of delight and learning, too.
The Author's Note at the end of the book describes the real life phenomenon that inspired this book. If you happen to live near Philadelphia, get ready to see it for yourself this spring!