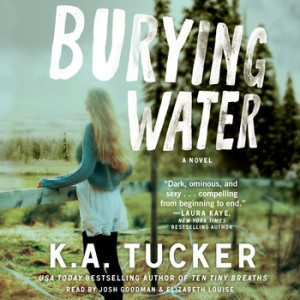 For some reason, I was under the impression that K.A. Tucker's popular novel/series (which I haven't read) Ten Tiny Breaths was for young adults, and subsequently I assumed that this — the first book in her new series — was also for young adults. I was wrong on both accounts. This novel features characters in their early 20's, and I suppose it could be part of the "new adult" genre that is now targeted to adult readers of young adult fiction.
In many ways, it reads like YA with an overly dramatic and angsty plot, but the content — language and sexual situations — were definitely adult.
The way the story was told, alternating between different characters' points of view, kept the story moving along. It also went back and forth between past and present in a way that advanced the story at just the right pace.
That said, it's a little more romancey than I prefer, but I did like the element of the main character trying to remember who she was, or better yet — figuring out who she wants to be.
Left for dead in the fields of rural Oregon, a young woman defies all odds and survives—but she awakens with no idea who she is, or what happened to her. Refusing to answer to "Jane Doe" for another day, the woman renames herself "Water" for the tiny, hidden marking on her body—the only clue to her past. Taken in by old Ginny Fitzgerald, a crotchety but kind lady living on a nearby horse farm, Water slowly begins building a new life. But as she attempts to piece together the fleeting slivers of her memory, more questions emerge: Who is the next-door neighbor, quietly toiling under the hood of his Barracuda? Why won't Ginny let him step foot on her property? And why does Water feel she recognizes him?
NOTES ABOUT THE AUDIOBOOK
This was a good listen. The chapters alternated between Water's, Alex's and Jesse's points of view and were voiced by two different narrators, which helped easily distinguish the character. Josh Goodman and Elizabeth Louise had pleasing voices.
Audiobook giveaway prize pack
This audiobook is a part of the Simon & Schuster Christmas Giveaway at 5 Minutes for Mom. Click through to win a copy of Cary Elwes' As You Wish, this title, plus 3 middle grade novels!