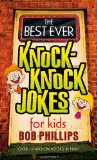 Several years ago, one of my friends gave my son a joke book. For the next few weeks, my son followed me around with non-stop jokes. I vowed I would one day have my revenge!
The Best Ever Knock-Knock Jokes for Kids
is a wonderful joke book for children. It is filled with good, clean fun. Within its covers are 112 pages of jokes that will keep kids laughing in the car, at home, and on the playground. My own little jokester loved looking through and finding jokes to keep him and his sister laughing out loud.
Truthfully, few things are as sweet as the laughter of a child. Although I like for the jokes to be spread out (rather than hearing all of them within the course of an hour or two), I am thankful for books like these because they provide kids with such pure enjoyment. I also appreciate joke books because they appeal to most children, even hesitant readers.
Since laughter is so sweet, I plan to give a copy of The Best Ever Knock-Knock Jokes for Kids
to my friend's child as a birthday gift. I am sure she will be thanking me for all the laughter in the weeks to come!
Lauren is a wife, a mother of two, and an avid reader. She blogs at Baseballs and Bows. Lauren thanks Harvest House for providing the review copy of this book.