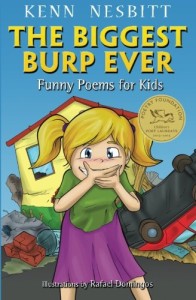 I love funny poems, and my 10 year old son and I have been a big fan of Kenn Nesbitt's for a long time (see below for our thoughts on his other books). Since he's moved into self-publishing, the covers have changed, but the poems haven't. They are still funny and relatable. The line drawings inside are from the same illustrator who did the cover I assume, but in black and white, they look much less juvenile and are great accompaniments to the poems.
When my son began reading The Biggest Burp Ever: Funny Poems for Kids, he laughed (as always), and then called me over when he was reading "I Didn't Go Camping." This poem tells the story of all the things a child did NOT do over summer vacation and ends with "I didn't become a guitarist or drummer, but boy I played plenty of Minecraft this summer." After reading that, he had to share this with me: "I think Kenn Nesbitt knows me!! He definitely understands me!"
Isn't that the way we want our kids to respond when they are reading?