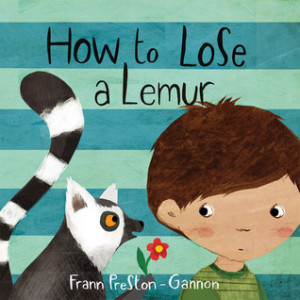 How to Lose a Lemur is one my new favorite picture books, for Frann Preston-Gannon has created a humorous adventure story with just the right combination of absurdity and heart.
"Everyone knows that once a lemur takes a liking to you, there is not much that can be done about it."
This charming opening line accompanies a larger view of the illustration that can be seen on the cover- one of a slightly surprised young boy looking over his shoulder at a flower-wielding lemur whose cheeky grin shows off his adoration. (The addition of lines for his teeth in the inside illustration makes the lemur even that more darling!) The boy tells the tale of the time he had a lemur fan, and how when he tried to escape his attention, more and more lemurs began to follow him. He goes to great lengths to lose these terribly cute primates, but no matter where he travels, no matter what conditions he faces, those lemurs stick right with him.
And thank goodness they do, for the boy soon finds himself in a bit of trouble… he doesn't know the way back home. Children hearing this delightfully fun story read aloud will quickly be able to predict who will come to the boy's aid. Those lemurs are as helpful as they are friendly. (And did I mention, CUTE?).
Okay, putting my love of primates aside, this book has it all– a fun and engaging storyline that is silly in just the right way, a pattern that allows for parents to ask young children what they think will happen next, warmly colorful illustrations that will undoubtedly make readers of all ages smile, and a wonderful excuse to show your child pictures and videos of lemurs on the internet to give them an idea of these animals in the real world!
This delightful new picture book works perfectly for one-on-one reading or as a group read aloud, and adults reading it aloud should be prepared to giggle right along with the kids.