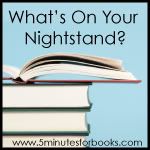 Has Spring finally sprung where you live?
Here in Texas, we've had some cooler-than-normal mornings that turn into warm, humid-free afternoons, which mean that I've had time to sit outside and read. No matter how busy I am, when the conditions are just right, I have to take 15 or 20 minutes to do that.
I'd love to hear what you're hoping to read this month, or what you've just finished reading. Please link up in the widget below. If you don't link up, I hope you'll visit around and encourage everyone.
Be sure to scroll all the way at the bottom of the post to see links to some of our recently reviewed books you might have missed.
Check out our current giveaways. Subscribe to our feed. Follow us @5M4B on Twitter or on Facebook.