I received a copy of this book for review purposes. I was also compensated for writing this post, but all opinions remain my own.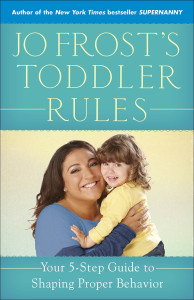 You likely know her as Supernanny, the British child care expert who has assisted families strengthen their parenting skills on her television shows. In her latest book, Jo Frost's Toddler Rules: Your 5-Step Guide to Shaping Proper Behavior, Jo Frost presents a straightforward method of parenting with love and discipline specifically focused on those feisty toddler years.
Addressing the ways discipline, sleep, nutrition, early learning, and socialization are interconnected and vital to young children's development, Frost provides guidance that all parents can learn and benefit from, even if it's just a "refresher," something that we all need every now and then!
Read my whole review of Jo Frost's Toddler Rules over on 5 Minutes for Mom, and be sure to enter to win a copy of her new book.