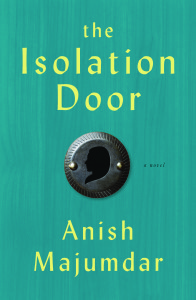 In his debut novel, journalist Anish Majumdar weaves a tale of fiction loosely inspired by his own familial experiences, and the result is a dark coming-of-age story that sheds light on the rippling effects of serious mental illness. Neil Kapoor, a 23-year-old boy (definitely not yet a man), is struggling to find his way in The Isolation Door, and it is only when he breaks free of his parents' hold on him, defined by his mother's schizophrenia and recurrent hospitalizations, that he becomes aware of the harsh realities of his family life.
Shortly after assisting his father in carrying out his mother's latest involuntary stay in a mental health facility, Neil breaks away to pursue classes at drama school, having enlisted his aunt's financial assistance. It doesn't take very long at all for Neil to become entwined in a friendship of sorts with a trio of other students in his acting class. Lacking a background of healthy relationships with which to compare, Neil doesn't immediately understand the "drama" he is entering with these fellow students. As he tries to navigate these relationships, along with the guilt and shame he feels about his family, Neil is left floundering, vulnerable and confused. He wants to lash out at his father for what he perceives to be a weakness in the way his father cared– or didn't care, he thinks– for his mother, and he wishes to be free of the burden of his mother's unpredictability.
As Neil pulls away from his parents, he is drawn closer to his aunt, his mother's only sister, but this relationship is also fraught with emotional baggage. He must begin to navigate his adult life by setting his own course, a series of difficult and potentially damaging decisions at best.
I'm drawn to novels that involve mental illness themes, mostly because of my own familial histories, and because as fiction, they're usually rife with raw honesty. This book surely fits that bill, however, I found it challenging at times to uncover that honesty, partly due to the fact that Neil isn't always honest with himself and thus makes for an unreliable narrator. Some of the storytelling was difficult to follow for me, but the heart of the story came through more clearly. Its dark tone made it heartbreaking to continue with at times, with so very few pinpricks of light shining through. Readers who have seen or felt the effects of schizophrenia in their own families will likely be drawn to this novel for its testimony to the harsh realities of mental illness.
We're happy to be participating in the TLC Book Tour for The Isolation Door. Check out the other stops on the tour to hear other book bloggers' opinions of the book.
Check out our current giveaways. Subscribe to our email feed. Follow us @5M4B on Twitter or on Facebook.