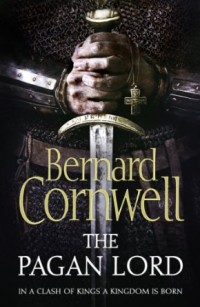 Life is rough in the tenth century. Britain is still a series of fiefdoms, and the Saxons battle the Danes – and sometimes the Irish – for land, gold, and more. Uhtred is a great lord and fearsome warlord with firm beliefs. He is most definitely not a Christian, and he is horrified – and humiliated – when his oldest son decides to become a priest. The Pagan Lord by Bernard Cornwell certainly lives up to its name.
Uhtred of Bebbanburg (though he does not hold the castle or lands of Bebbanburg) rides to stop the ordination of his son, but he is too late. In the confusion over the confrontation, Uhtred accidentally kills a bishop, which results in him becoming a hunted man. He heads to Cnut Longsword's holdings, where is accused of kidnapping Cnut's wife and children. All too easily, Cnut agrees that Uhtred may not have been the one, and invites him back to his castle for an already prepared feast. Uhtred misses the signs that this is a setup and agrees to find the culprit.
By the time Uhtred returns home, his holdings have been burned, and the priests are there warning his men that Uhtred is persona non grata in the church and that they need to abandon him. Some do, but he retains a small band that either follow Thor like he does or whose loyalty to him is greater than that of the church (and who don't have wives who insist they leave).
The small broken band needs a new home and decides to take back Uhtred's ancestral home of Bebbanburg, a fortress even the powerful Danes have never been able to capture. Along the way, Uhtred begins to discover that there is a larger plot afoot, and he must determine where his loyalties – if he has any – lie.
This is the seventh novel in the Saxon Lords series, though I had not read any of the previous books (though I have read other Bernard Cornwell books, such as 1356). It is easy enough to get caught up in the action and characters without having read the previous books, although it is apparent that there is far more to the story than what is captured in this installment.
The book was enjoyable, though somewhat disturbing, as any somewhat accurate depiction of 10th century life must be. It is not a civilized time, and battles were common and bloody. Uhtred is an interesting character – old (in his 50s) and bitter about the changing times, yet still a sympathetic character. It is an action and plot driven book rather than being character driven, but it works.
I love the creativity Uhtred exhibits in finding solutions, regardless of the obstacles in his path. He isn't always successful, but he stays true to himself and his beliefs, as unpopular as they may be. He's a character you shouldn't want to like, as he is brutal and uncompromising, yet you can't help cheering for him against all adversity.
Written by Michelle who sometimes wishes she'd been born in another time, but the 10th century is not her dream. See what she does dream about on her blog Honest & Truly! and follow along with her on Twitter where she is also @HonestAndTruly.