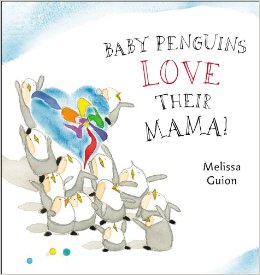 Baby Penguins Love their Mama
is a delightful look at a very busy mama of a large family of adorable grey and white penguins. And wow, is she busy! There's always so much to do!
Each day of the week has its own chores and lessons to be done. On Monday, it's swimming. On Tuesday, it's sliding (who knew you needed lessons in that?). On Wednesdays, it's waddling–which is harder than it looks. By Sunday, Mama is so exhausted that she needs a nap.
A charming story, this book is sure to become a well-loved addition to any library, but it would be especially fun for Valentine's Day or Mother's Day.
Pop over to 5 Minutes for Mom and enter to win your own copy, along with a mother-and-baby penguin soap.