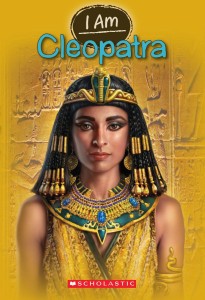 Cleopatra tends to be a figure lost in the mists of time. Oh, sure, we know her name and we associate her with Marc Antony and a romance for the ages. It's a shallow view, however, and I was excited to see that Scholastic's "I Am…" series was going to feature this powerful woman who was Egypt's last pharaoh. I Am Cleopatra by Grace Norwich provides more insight to Cleopatra's life than I've previously read, as well as the history and culture of ancient Egypt.
The history and culture of ancient Egypt, as shared by this book, are part of what disturb me, however. Yes, I want my children to read about a powerful woman ruler who was an aberration in her times. I want them to learn about and appreciate history. But after reading this book, I chose not to pass it to the wee ones.
There is much that is different in the culture of ancient Egypt to the way we live today. The book frequently divulges that "it was common" in these times without ever alluding to the fact that some of these practices are considered morally reprehensible now – or why. There is talk about how Cleopatra and various men are in romantic relationships, even though the men have husbands back at home and how her children were fathered by men she wasn't married to. I Am Cleopatra talks openly it being common for siblings to marry and have children to keep the bloodlines pure, and no mention is given beyond that. It talks about suicide being a noble thing to do in the ancient world – and in fact, the suicide of Cleopatra subsection is entitled "A Noble Ending." Incest and suicide are topics that I am not ready for my eight and ten year old to read about, and especially not without further explanation of how and why this is not the same today and that suicide is not a noble ending, in truth.
That said, Cleopatra's story is fascinating. I was mildly aware of the culture of ancient Egypt, but much of the specifics I'd long since forgotten. It was interesting to read how Egypt came to be a near independent nation and why Alexandria was such an important port city. Picturing a port that could handle 1,200 ships at once back then defies my imagination. Seeing how Cleopatra gained and consolidated her power from amongst her siblings brought new insight into how and why she became so powerful.
As with every "I Am…" book, there is a glossary at the end for words that readers may not be familiar with. I appreciate Grace Norwich not shying away from using words like inimitable and extravagant and vulnerable when they are the most appropriate choice but still ensuring that they are accessible to kids by including them in the glossary.
The same holds true with the 10 Things You Should Know About Cleopatra and 10 More Things That Are Pretty Cool to Know at the back of the book. Most of the things you should know about Cleopatra are quick one sentence recaps from the book, like the story about how Cleopatra snuck into an audience with Julius Caesar in a grain sack when he arrived in Alexandria to mediate the dispute between her and her younger brother. It's a great way to revisit and quickly remember some of the more pertinent portions of the story.
The more pretty cool things tends to be more tidbits of information that just didn't fit into the book but are still pretty cool like Egyptians being the first to develop beekeeping. I also shuddered but was fascinated to learn that many hairstyles were created and then sewn into place by maids. Between that and knowing what I do about Victorian hairstyles, I'm grateful to live in a day and age when sacrifice to beauty isn't quite so painful.
As an adult, I really enjoyed this quick read, and I wanted to enjoy it for my children, as well. In the end, I couldn't pass it to them without feeling uncomfortable about some of the messages it provided without giving more of a context than "it was common" in ancient times. That said, I know that I tend to be a fairly conservative parent when it comes to content.
Written by Michelle who would have enjoyed some of the feasts from Cleopatra's day but definitely not the backstabbing portions of it. See what she feasts on today via her blog Honest & Truly! and follow along with her on Twitter where she is also @HonestAndTruly.