I'm better late than never in mentioning these two new Pete the Cat books that showed up on my doorstep courtesy of Harper Collins.
Pete the Cat is very popular in my son's school library where I am a volunteer. I think he's cute, and the text is simple and fun. He doesn't bowl me over, but if the kids like him, that works for me.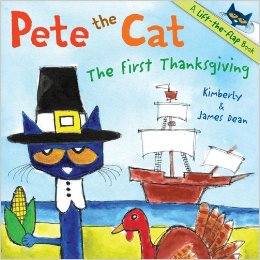 Pete the Cat: The First Thanksgiving is actually a bit different than your standard Pete the Cat picture books. First, it's a small trade softcover, and second it has lift the flaps on each page for added interest. But a few things are the same — Pete is still super cool, and the colors are bright and inviting on every page. I thought it had more of a story, about Pete playing a pilgrim in his school play, which is the vehicle for telling about the first Thanksgiving. This is a nice way to introduce children to the colonists, not necessarily restricted to reading only this time of year.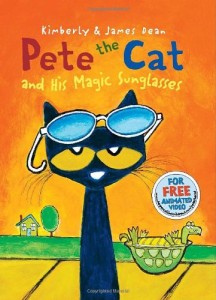 Pete the Cat and His Magic Sunglasses tells about the day when Pete the Cat wakes up feeling figuratively (as well as literally) blue. This follows the typical pattern of Pete walking through town, in this case being given a pair of magic sunglasses, then sharing them with others he meets along the way who are also feeling grumpy.
The artwork is bright and whimsical, and I guess that's what draws kids in to these books. The positive message and outlook that Pete has without preaching is something worth encouraging as well.