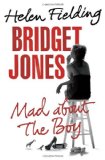 She's back. Our favorite calorie-counting, relationship-obsessed, fumbling but good-hearted and as always hysterically funny, perpetually single girl, Bridget Jones. But time has moved on, and Bridget is no longer unencumbered. The inestimable Mark Darcy is dead, killed while working on human rights in Sudan (which is just what he would do), leaving 2 very young children and a widow who initially deals with her terrible loss through food.
When Bridget Jones: Mad About the Boy
opens, Bridget is 51 (I know!) and gingerly wading back into the dating pool, 5 years after Mark's death. She gets on Twitter, and it's rather delightful to see her obsess over her number of Twitter followers in the same way she used to obsess over calories. She's navigating single parenthood, and there are some snarky bits about other parents' obsessions with perfection, which I enjoyed. She has a love/hate relationship with one of the teachers at her son's school, and he's the one who always seems to walk by when she's managed to be in a bit of a predicament. She senses his silent disapproval and is defensive as a result, with often funny results.
One of her Twitter followers turns out to be the 29 year old "Roxster" and he and Bridget begin dating. This allows her a triumph at parties–not only is she dating again, but a much younger man!–but also brings up the heart-baring question: what do you do when your boyfriend's 30th birthday and your friend's 60th birthday are on the same day? Do you confess to your boy-toy that you have friends twice his age? Do you bring your boyfriend and watch all your friends size him up enviously? Needless to say, the answer to this question provides lots of fun for the reader.
This Bridget Jones
is of necessity darker and more grounded than its predecessors, and so it's not as funny. There are several poignant scenes of Bridget grieving for Mark, of the children writing letters to daddy addressed "Heaven," and more. This adds a depth to Bridget's character, and makes us even more sympathetic as she ventures into the world of Botox and hair extensions, while still dealing with school snacks and lice invasions.
There are still plenty of side-splittingly awkward moments–this is our beloved Bridget, after all. Bridget Jones: Mad About the Boy
is a delightful read. If you've never read the Bridget Jones books, I would recommend starting at the beginning, but those of us who are long-time fans, Bridget Jones: Mad About the Boy
provides us with another look at a favorite character dealing, as we all are, with the indignities and varieties of middle age. It's true that she still has many of her old insecurities and foibles, but she remains the very imperfect but highly relatable character we love.