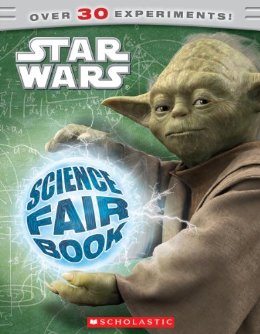 I'm lucky that the wee ones like school and learning.  That said, it's always more fun when you can tie it in with one of their favorite topics.  So show them the Star Wars: Science Fair Book by Samantha Margles, and they're over the moon.
The book has over 30 experiments that examine some of the science behind Star Wars.  They range from making your own lie detector to determining how easy it is to train worms to growing crystals and more.  Each experiment opens with a paragraph introducing how it is relevant to Star Wars and posing a question.
From there, the reader is encouraged to form a hyopthesis before running the experiment.  I appreciate how the book encourages "proper" scientific method of developing a hypothesis, gathering all the needed materials and prepping, rather than just doing the experiment itself.  As a parent, I appreciate the thoroughness and ensuring there is knowledge coming from conducting the experiment.
There are experiments for various levels of expertise, as well.  Each experiment is coded both in difficulty and in cost so you know what you're getting into upfront.  The easiest experiments are one light saber and the most difficult are three light sabers.  There are also one, two, and three dollar signs to denote how expensive an experiment will be, as well.  I've gotten in over my head on both fronts before, and I like knowing what I'm getting into with this labeling.
The book itself is colorful and looks like Star Wars from the background of the pages to the fonts chosen to the photos interspersed throughout the book.  It encourages interest, and Mister Man in particular can't wait to try to test the reflexes of everyone he knows – an easy experiment that can be done with materials we already have at home, though I'm not letting him build his own hovercraft anytime soon!
Written by Michelle who lives with a boy obsessed with Star Wars.  See what else her family is obsessed with as she shares her life on her blog Honest & Truly! or follow along with her on Twitter where she is also @HonestAndTruly.