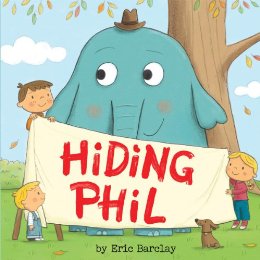 With the opening words, "Look! An elephant!" the book Hiding Phil sets a playful and amusing tone, as three cute young children come upon a hat-wearing elephant waiting at a bus stop. The fun continues on in Eric Barclay's new picture book for preschoolers when the children realize that they have an elephant-sized problem on their hands.
The kids have a blast hanging out with Phil, who doesn't talk, but whose name was luckily on his luggage tag. He's perfectly sized to enhance their play, and he's good at jump rope twirling, acting as a slide, and holding one side of the seesaw down. With happiness all around, the little girl in the group declares that their parents will just LOVE Phil. With one page turn, readers witness everyone's simultaneous realization that this will not likely be the case. (This part is my favorite two-page spread of the book, and my kids cracked up to see all the widened eyes… even the rubber ducky in the kiddie pool!)
Here's where the title of the book comes in, and the children's attempts at hiding Phil the pachyderm are comical, but sadly ineffective. What will happen when their parents do indeed discover Phil? Well, I won't tell you exactly that, but trust me when I say that your kids will have smiles on their faces as they reach the end of this book.
There's a simplicity to the text and illustrations that is charming and reminiscent of one of my favorite author/illustrators, Mo Willems. Though even my seven- and five year old children loved this book, I would most highly recommend it for the three year old crowd, for it's short length and vibrant illustrations. Hiding Phil brings giggles to a wholly fun read aloud experience with young children!