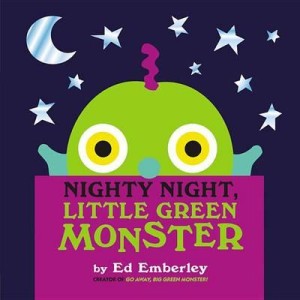 Ed Emberley's colorful and whimsical picture books have been entertaining children for a long time now, and as a preschool teacher, his name could frequently be seen on the covers of books in my classroom over the years. Emberley might be best known for his classic Go Away Big Green Monster, and his newest release revisits that theme, but with a younger and cuter face. Nighty Night, Little Green Monster will appeal to the youngest of readers, secure in their caregivers' laps.
Following in the style of the original Monster book, this one starts off by building Little Green Monster's face piece by piece with each page turn, highlighting the colors of his features, with the cutest one being the "one little curly purple hair." Instead of readers telling this monster to go away, when the first star appears in the sky, they bid Little Green Monster nighty night as each turn of the page sends away the features one by one, until only the shiny silver stars appear on the final page.
This 8×8 inch picture book is a good size for toddler hands, and though it's not exactly a board book construction, the pages seem sturdier than the average picture book, and unlike the original book, there are no dangly facial features ripe for the ripping. I'm looking forward to sharing Nighty Night, Little Green Monster with some friends' toddlers soon, and I anticipate that there will be many giggles as we say nighty night to the adorable little guy and his too cute curly purple hair.