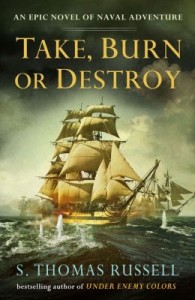 It took awhile for me to get into Take, Burn, or Destroy by S. Thomas Russell. I was looking forward to the novel set in 1794 that features Captain Charles Hayden aboard the HMS Themis out on orders from the British government to find and destroy a French frigate. The story has amazing premise, but I slogged through the first six chapters and over 100 pages as it detailed the ship sailing through fog for three days trying to elude two French frigates tracking it.
The chapters were long, and it seemed to me that not much happened. The boats played a very slow game of cat and mouse, Captain Hayden bemoaned what had happened to drive his love away from him, and that was about it. I finally got truly into the book in the seventh chapter that was a mirror in time but focused instead on Henrietta Carthew, Captain Hayden's star-crossed lover and her family.
Henrietta believed that Captain Hayden had married a beautiful French woman while he'd been out at sea and brought her to England, along with her daughter. The woman had been pronouncing herself Mrs. Hayden and spending all Captain Hayden's money, although he had not yet returned to London. By the time he had, the damage was done and no one in Henrietta's family or circle of friends would speak to him or open his letters. Henrietta is still mourning his loss, although her cousin Elizabeth Hertle begins to nudge her towards a childhood friend Frank Beacher instead – knowing that he won't be Henrietta's great love but that he'll be steady and adore her.
The remainder of the book flips back and forth between Captain Hayden and the Carthews, as Captain Hayden's ship is captured and he is then shipwrecked aboard the French ship that took him while Henrietta draws closer and closer to an engagement with Frank Beacher.
The characters suddenly become much richer as they are placed into more interesting situations. Captain Hayden must escape from France where he is mistakenly thought to be a French officer during the French Revolution where the Jacobins have initiated their reign of terror and no one is safe. On top of simply wanting to return to England alive, he has been entrusted with intelligence for the British about French troop movements and an imminent invasion that Admiralty needs as quickly as possible. At the same time, word has come to the Carthews that Captain Hayden's ship was taken and that the ship that attacked him had been shipwrecked on a reef with only two men found alive. Captain Hayden is now dead, making Henrietta's choice in what to do a little easier.
The book isn't simply a happy story of star-crossed lovers working to find each other again. It is far more complex – and based in reality – than that. This isn't a feel good book, although you want so badly and painfully for each of the characters to get through their grief and anguish and find peace. It continues to have twists and surprises all the way through, with the book continuing to ramp up speed after the seventh chapter, all the way through to the end where it stops and provides a hint that a sequel may be appropriate.
Michelle, like Henrietta, has had to make decisions in her life as to whether she would rather have happiness or knowledge. It's not an easy choice, but life never is. See what she has to share about her life on her blog Honest & Truly! or follow along with her on Twitter where she is also @HonestAndTruly.