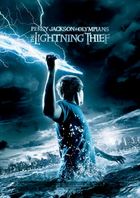 When my 8-year-old son asked me to take him to see The Lightning Thief on opening night, I jumped at the chance. Not only had we read the book together— and loved it — (click the link for our review) just a few months before, but we'd also been snowed in for about a week and absolutely needed to get out of the house.
As with most movie adaptations, we found some big differences between what we read in the book and what we saw on the screen. Kiddo was on the edge of his seat the whole time though, so I knew the movie was a hit with him! For me, the real test is whether or not the movie captures the "feel" of the book. I'm glad to say that this movie did that, and did it well.
That said, the changes made for the movie are significant. The most obvious is that Percy is not 12 years old but rather 17; this allows the movie to bring in a romantic undercurrent that doesn't appear in the books until later in the series. Another, albeit minor, change is the reason for the gods not being involved with their demigod children. I don't want to spoil it, but I appreciated this storyline in the film. Perhaps the biggest change is the absence of the Kronos plot line as the overarching framework. This allowed the movie to be a stand-alone story and not depend on a sequel to make sense (although Kiddo and I are both hoping for sequels!).
One thing parents should know is that the creatures in the movie are creepy, and some are scary – there were a few upset kids in the theater with us. Kiddo had no problems with creatures and he actually enjoyed those parts. I'd say that if your children have seen the Harry Potter films then they will be fine seeing The Lightning Thief.
As we left the theater I asked Kiddo which he liked better, the book or the movie. His answer? "The book, but only by a little bit. The movie was good but it left out some things I like and it changed stuff."
Now THAT is a child after my own heart!

This Mom & Son Movie Review is brought to you by Heather J. and Kiddo. Check out Heather J's blog, Age 30+ … A Lifetime of Books for more Mom & Son Book (and movie) Reviews. You'll also find tons of other book reviews and bookish info, as well as posts about Kiddo's struggle with severe food allergies and life with a feeding tube.