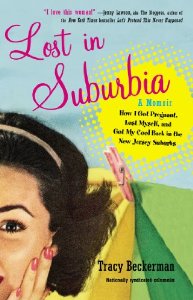 I've read the humor column of Lost in Suburbia: How I Got Pregnant, Lost Myself, and Got My Cool Back in the New Jersey Suburbs author Tracy Beckerman for a long time. She's a hoot to read and a hoot to talk to in person. The (extended) title of the book pretty much sums up the content, and it's told in quick bites with vivid pictures that frequently made me giggle while reading.
I adore the prologue, in which Tracy is pulled over for making an illegal left turn out of the school with her three year old in the back… while wearing her ducky bathrobe. It is a promising and entertaining start to a book that keeps it up pretty much throughout.
Click over to my full review of Lost in Suburbia at 5 Minutes for Mom, where you can enter to win your own copy.
Michelle still hasn't fully gotten her cool back, given that she's still growing out her mom bob into something… else. Fortunately, she's pretty cool with her life, and you can read about why on her blog Honest & Truly! or follow along with her on Twitter where she is also @HonestAndTruly.