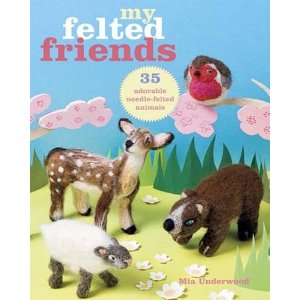 Ok. I am not a crafter. Not by any stretch of the imagination. However, when I heard about My Felted Friends
I thought to myself: "Felt animals. I would like to try that." And so I was sent this title for review.
Gratefully it arrived when my very crafty (I mean that in the best sense) sister-in-law was in town visiting. I handed the book over to her before really looking through it myself and asked her for her thoughts. (I was so happy that she was here to potentially launch me into this project!) She looked through and said, "Um, Carrie. This is not really for beginners." Hopes dashed! I took the book from her and peeked at it myself. This one is most definitely out of my league. However, it's so very cute I have to share it with you anyway.
My Felted Friends
does not involve your basic piece of felt (like I was thinking). It's "needle felting" wherein you take a piece of wool and poke and press at the fibers with a needle, shaping them into animals. These animals are "not intended for small children" which is the exact portion of the population I was hoping to experiment for.
Mia Underwood makes ridiculously beautiful needle-felted animals. In this book she provides instructions on how to make any manner of animals yourself, including (but not limited to):
a Lord Lion
a Cheerful Chicken
a Teeny-Tiny Penguin
a Wide-Eyed Owl
a Dinky Dachshund
a Happy Hamster
The introductory pages to this book includes many technique tips and instructions to help you along. A list of materials needed is also included.
Making these needle-felt animals seems like A Project Extraordinaire. Certainly I think these tiny animals are positively adorable. However, I know myself well enough to know not to try to get involved in trying to make them myself. I will admire them as an art form and leave it at that.
Thank you, CICO Books, for sending a copy of this book my direction in exchange for my honest thoughts.
Carrie blogs about the books she loves and the books she aspires to find inspiring over at Reading to Know.