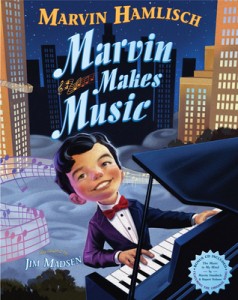 "Marvin was born to play music."
So goes the opening line from Marvin Makes Music
, by the late Marvin Hamlisch. In this children's autobiography he writes how he did not care to practice piano as a young lad. In fact, his father and mother had to hunt him down in order to get him to practice music written by "some old guys" by the names of Ludwig and Wolfgang. Marvin would rather have spent his time playing the music which was in his mind. Marvin's wise father told him though that the only way to be able to play his own music well was to learn how to play classical piano well.
This story tell us how Marvin came to terms with the idea of having to practice and play other people's music. The book concludes with his acceptance into the Julliard School of Music at the ripe old age of six years old. This is a cute and somewhat informative little story which is inspirational in that it can help a child to see that they can grow up to do big and great things. However, in order to be able to do those big and great things, they will have to work hard at "little" things first. This is definitely a message I can get behind!
I like reading stories about people in show biz. I have no idea why this is, really, as my life is so far from glitz and glamor. Perhaps it's the vast difference in our lifestyles which completely fascinates me. At any rate, I was eager to read this book and through it, educate myself a little more thoroughly with who Marvin Hamlisch was. He composed more than 40 motion picture scores, won an Oscar for the song/score for The Way We Were and has generally received a lot of recognition for his very hard work. I was poking around online, looking up information about him and I have to tell you that the thing I will remember about him now is that he was the man who composed the musical score for the movie D.A.R.Y.L.
. Does anyone else remember that movie? I loved it as a kid!
Getting back to the subject at hand – Marvin Makes Music
is a perfectly delightful children's book with a positive message which promotes hard work. Furthermore, this book comes with a CD of an original song composed expressly for this book entitled, "The Music in My Mind." This is a very fun book all around and I happily recommend it.
Thanks to Dial Books for Young Readers for providing a copy of this book to me in exchange for my honest opinion.

Carrie blogs about books for children quite frequently over at Reading to Know.