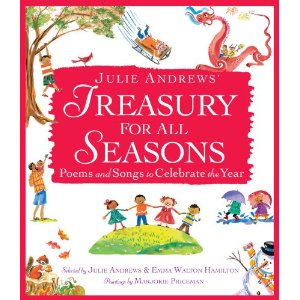 Most people remember Julie Andrews as Mary Poppins or the free-spirited Maria or the Queen of Muldovia. For me, she's always been the author of one of my favorite childhood books and as of late, when you hear about her, it's more likely in regards to literacy than acting.
Julie Andrews' Treasury for All Seasons: Poems and Songs to Celebrate the Year is a collection of children's poetry, organized by season, selected by Julie Andrews and her daughter Emma Walton Hamilton. There are poems (and even songs) from such authors as Emily Dickinson, Robert Frost, Cole Porter, Dr. Seuss, and E.B. White. The selections are child-friendly, and I'm a firm believer in poetry for children. It would be great to read a few poems at breakfast or lunch or bedtime.
But what sets this collection apart is the artwork from Marjorie Priceman. Each poem has a two-page spread of a beautiful painted backdrop. The artwork is bright and fluid.
This would make a great gift for a baby or preschooler on your list (or their parents), to round out a complete home library.