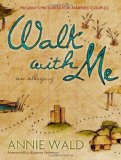 Celeste and Peter are two people journeying to the King's City when they decide to walk together as partners, promising to stay together no matter how difficult the path. However, they have no idea what lies ahead–the Swamp of Selfishness, the Desolate Canyon with the River of Unfaithfulness snaking through the bottom, the Orchard of Earthly Delights, and much more. You're probably already flashing onto John Bunyan's famous allegory "Pilgrim's Progress" and you're right–Walk with Me
is an allegory in the same style about marriage.
I find that I'm helped more by story than by lecture. I think of how Jesus' parables of the Good Samaritan and the Prodigal Son flesh out for me the concepts of mercy and forgiveness. The writings of CS Lewis, George MacDonald, and others of their ilk have done more for my Christian life than myriads of well-meaning self-help books with their lists and instructions. Story holds up a mirror to my life and challenges me to not continue as I have been. That's why I appreciated Walk with Me: Pilgrim's Progress for Married Couples
so much. It gave me fresh eyes to view my marriage and to look at the big picture, at what's truly important in the long run.
Read the rest of my review,  find out why I'd give this book 5 stars, AND enter to win a copy of your own over at 5 Minutes for Mom.