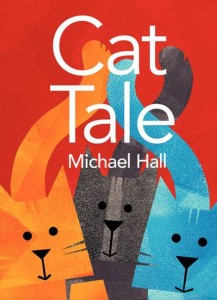 When this book arrived (unbidden, but not unwelcome), my 8-year-old son thought it was inviting enough to pick it up and read it. With just a glance at the illustrations and sparse text, I thought it was a typical picture book aimed at 3 – 6 year old children, but boy, was I wrong!
Cat Tale by Michael Hall is slightly oversized with brightly colored, crisp paper cut graphics (I am trying to sound more educated about picture book art styles than I actually am, but I think that this gets the point across).
The story actually starts on the title page, so don't miss it: "From word to word/they find their way,/Lillian, Tilly, and William J."
The wordplay is fantastic:
They choose a spot.
They spot some ewes.
Not only does "They flee a steer" sound great (and look fantastic on the page with a bright creature reminiscent of Babe the Blue Ox), but it introduces a new word "flee," in a very clear context with the worried expressions the cats wear as they are turning to run. On the next page they "steer a plane," and the fun plays on words continue until they get off track, but then the tale is reigned in by the cats' tails.
I hope this review has piqued your curiosity about this lovely book that is sure to delight clever kids of all ages (When my 14-year-old daughter heard my son and I talking about it as I was writing up this review, she also said she thought it was "cool," so apparently it grabbed her attention at some point when it was lying around.).
Jennifer has clever thoughts and is a proficient user of the puns, which don't often find their way onto her blog Snapshot.