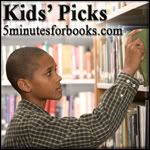 Kids all over the country are back in school, bringing back homework, parent meetings and after-school activities. My kids fall into bed exhausted at night but we still make sure there's time for reading.
My 4th grader is required to read 20 minutes per night and some nights that's easier than others. I'm hoping this year he'll get out of his comfort zone and tackle some longer books. Mr. Kindergartener is still favoring Magic Tree House, the picture books I get him from the library and occasionally plucks one off his own shelf to read. Click over to my (Nancy's) blog below to see what they've been enjoying.
I know life is busy right now, but we'd love to know what your kids have been reading. Do they have required school reading that pushes pleasure reading to the side? Leave a comment or link up below and fill us in. Please link directly to your blog post, and include your children's ages for ease in visiting.
Don't miss a thing: Check out our current giveaways. Subscribe to our feed or video reviews on YouTube. Follow us @5M4B on Twitter or on Facebook.