Bells are ringing all over as another school year begins, and I have three kids in my household who aren't too thrilled about the passage of another summer. With younger children, picture books often provide fun ways to get them excited for a new school year. Some books go the traditional route of creating a story about a child going to a new school, and then there are others that present more unique stories. I recently received two new picture books that fall into this more nontraditional category, and humor is a big part of each of them.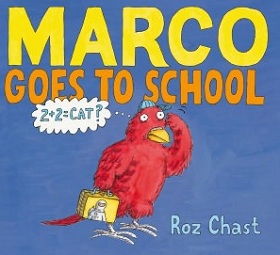 Sure, in Roz Chast's Marco Goes to School the title character is preparing for his first year in school, but this isn't your typical first-day-of-school story. Marco, oddly enough, is a small red bird who lives amongst humans. Both his mom and teacher appear only from the legs down, but the kids in his class are pictured in full. At first Marco has no concept of what "skool" is, but he soon sees it as a place of opportunity as his imagination soars. He gets his whole class to work with him on a block tower that will help him reach the moon! Even if he doesn't succeed, Marco certainly finds something new– friends, of course. To be completely honest, I find Chast's illustrations to be a bit bizarre for a picture book, but much more suited for her job as a staff cartoonist for the New Yorker. But that's just my opinion, and that's not to say that some kids won't be enchanted by wacky Marco.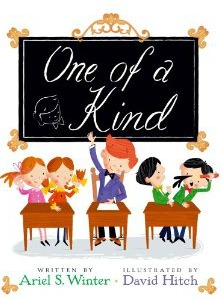 In another different kind of school experience, Lysander Singleton finds himself the "only only child at Twin Oaks Elementary" in One of a Kind, written by Ariel S. Winter and illustrated by David Hitch. Surrounded by twins, Lysander often feels lonely and left out. But when his school holds a daylong competition called the Twindividuation in which the children are encouraged to express some individuality, Lysander suddenly shines among his peers and has his best school experience yet.
If you're looking for a couple unique titles to add to your back to school reading lists, check these out for some fun and memorable characters!
Dawn is heading back to school along with her kids, ready to start another school year of fun picture book reading with her preschoolers. When she gets a chance during the school year, she blogs at my thoughts exactly.